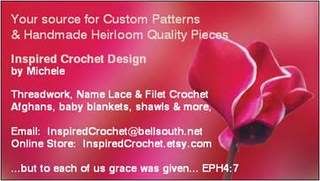 It's taken a few weeks but my Etsy Store
Inspired Crochet Design
is officially open!!!
I am so excited and nervous all at the same time.
Right now there are 30 some listed patterns.
I didn't want to open my store with only a few.
I still have a few patterns that are being tested and when they come in
I'll be adding them to the line up.
At the moment, all the patterns listed are Filet Croche, but with Christmas coming, I'll be going into a gift pattern making frenzy.
I have so many ideas, it's hard to keep them all straight.
I can tell you that there will be another full size afghan pattern coming soon and multiple patterns for personal and bath sets coming up. Beyond that -
I don't know - I'll keep you posted!
It just amazes me how much I love designing!