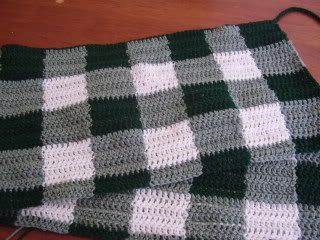 Well, here it is - my first ever gingham!
Each block is 3 inches square.
Gauge is 10 dc's x 5 rows, J hook
It's worked entirely in dc.
It is 45 inches across with 15 color blocks.

RHSS Hunter Green, Light Sage & Soft White

The top half is the front side of the ghan. I did this carrying the strand that was not being used to reduce ends. You can just about see the carried strand on the wrong side
(the bottom of the pic)
Anything to get out weaving in ends, ya know?!?
I'll be getting the pattern written up here soon and I'll be needing a pattern tester or 2 before I publish the pattern. (Ooooh - I just love that word!)