This is an incredibly simple technique that you can get down in just a few minutes of practicing.
As you can see in this pic you can get 2 totally different looks simply by using 2 strands of one color instead of
2 strands of different colors.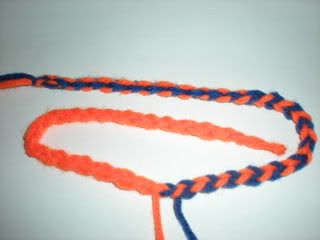 The front looks like a knit st and the back is just way cool.
To begin -
take 2 strands of 4plyww and a G hook.
Step 1 -
Hold them together and make your first sl knot & ch1.
Now you'll alternate colors while
you chain st with only 1 strand at a time.
Step 2 -
yo and draw thru with orange