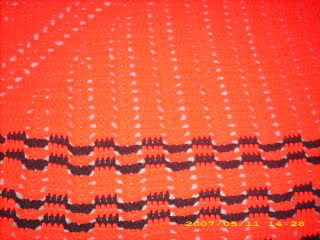 Can you believe that I used
4ply ww
RH in Hot Red
and
Black with
an I hook
!
Look how smooth that fabric is!
I have finally figured out how to make a Serafina flat while using the correct hook for the yarn. It is soooooooo simple.
I realize that I do Seraphina Shawls a little differently than everyone else. I have 4dc's on each side of the shell columns. I think that it gives it a more even look. This works no matter which way you make them.
When it comes time to make the shells -
u
se a hdc inste
ad of a
dc.



From your very 1st Vst (hdc, ch1, hdc)
to your very last Shell (3hdc, ch2, 3hdc)


use hdc's.



Always use the DC Shell down the center.
The hdc's are for the sides only.

I promise it works!