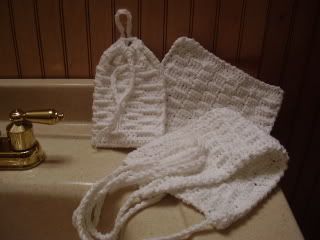 Here's my Woven look Bath Set. I think it's really neat. It's all made with fpdc & bpdc st's to get the raised effect.
STATS:
Peaches & Cream crochet cotton
G hook
St's: fpdc, bpdc, dc, sc, rev sc and ch.

Washcloth - 8" sq.
Soap Saver 4 x 6 "
Back Scrubber 4 x 13"
4 x 44" with straps

The washcloth and back scrubby have the raised bars on both sides for washing. The soap saver has the bars on the front side only so there is room for the soap on the inside. The straps for the back scrubber are 2 strands chained with an I hook. They're long enough to comfortably hold onto to reach your back.