This is my ladybug square pattern. I think it's just so cute. Anyways - the ghan was a gift for a dear friend. She LOVES it! It lives in the living room. That's her couch it's spread out on.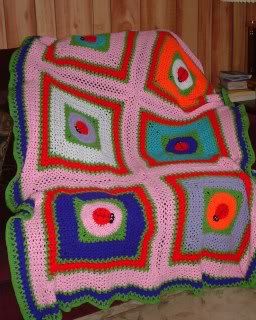 Lots of practice squares getting it just right went with the ghan for coasters or pillows or whatever she'd like to make from them.
I used my Bates J hook with Red Heart and Caron Pounders.

They work ok together. The Caron yarn is a little thicker
but overall - it's ok together.


***************************************