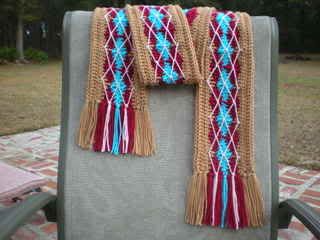 Many thanx to
mama24boyz
for coming up with such a sensational idea.
It never ceases to amaze me how simple a stunning pattern can be! The hardest part is thinking of it in the first place. Even the figuring it out is easier than thinking of it.
I do have to admit:
That I didn't actually buy the pattern
(and I already spoke with her about it) -
so mine is not exactly like mama24boyz's.
I did do a couple of things differently:
- I did every row on the right side
- I knotted my pink at each crossing
- my edging is my own
- I added fringe
You really just cannot improve on
an awesome pattern!
!!
~~~~~~~~~~~~~~~~~~~~~~~~~~~~~~~~~~~

For more information check out:

mama24boyz Blog
~OR~
mama24boyz @ Etsy for the pattern
~~~~~~~~~~~~~~~~~~~~~~~~~~~~~~~~~~~