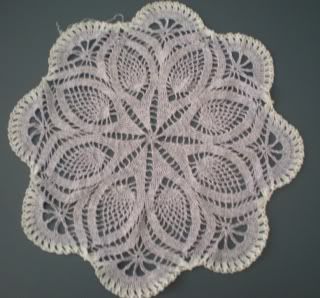 Click here for full size pic.
This is a beautiful doily.
I got really tired of doing all those trcs tho.
I used #10 thread and my #6 bates hook w/
1 strand of purple sewing thread.
I finished it off with 2 rounds of white to give it a border.
(Actually, I ran out of thread)
I just LOVE the look of it with the color added in.
It's about 16 inches across.
~~~~~~~~~~~~~~~~~~~~~~~~~~~~~~~~~